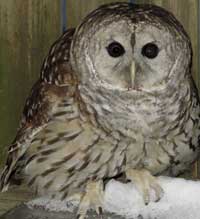 The Avian Wildlife Center is a wildlife rehabilitation center that treats all species of injured and orphaned wild birds with the goal of returning them healthy to the wild. It is licensed by state and federal authorities to do this work, but is funded through private donations. The Center is located in northwestern New Jersey.
If you find a wild bird in need of help, please phone the Center at (973) 702-1957.
The Center offers educational programs to all ages, provides an information resource, works on conservation projects and field research to better protect our native species. For more information on these services email avianwildlife@aol.com or phone (973) 702-1957.
The Avian Wildlife Center is a 501(c)(3) tax-exempt organization. You can donate online through PayPal here:
The website is under development at this time. Please check our Facebook page for updates.